Workoo.tech also known as "Workoo Technologies" is a website based platform that plays in the tech industry. The platform provides IT solutions along with dynamic remote job opportunities.
Today we will put light on some of the important aspects of Workoo Technologies, explaining its details & other things.
About Workoo Technologies
Workoo Technologies acknowledges the significant value that dedicated employees bring to a company. They understand that when employee engagement levels are high, productivity increases & motivated employees are more likely to make meaningful contributions to the business.
The company offers assistance in identifying temporary or full-time staff members for your remote work. Workoo Technologies is also expert at helping individuals to find work opportunities, whether they are seeking a new job or looking to improve their level of engagement in their work field.
The primary objective of workoo.tech is to match the right applicant with the right job, ensuring a mutually beneficial fit for both the employer and the employee.
Workoo.tech Expertise
This tech business claims to have expertise in the following fields:
Education
Marketing & Sales Services
Information Technology
Sales
Services Offered
The Workoo company offers the following services:
Web & App Development
IT Consulting
Digital Marketing
E-commerce Business
Cybersecurity
Workoo Review
Workoo Technologies offers a list of services, so, it is important to be cautious while using their offerings. Several warnings are associated with this company in the work-from-home niche.
Warning
These warnings include: poorly designed websites, vague job postings, upfront payment requirements and promises of quick approval.
Advice
To protect yourself from potential scams, it's advisable to conduct thorough research on Workoo.tech, including: company legitimacy, paying job application fees, unrealistic promises & financial terms. You should communicate with the team and clarify the whole process.
Reporting
If something happens then you can report a fraud to the Federal Trade Commission (FTC). With this act, you will not only protect yourself but also be helping to stop others from being victims of similar schemes by reporting the scam.
Additional information About Workoo
Either this workoo company offers a wide range of services & remote jobs but their jobs still raise some questions. According to them, they deal in full tech industry but as we see the job posting page of workoo.tech, there are only data entry jobs, as you can see in the image.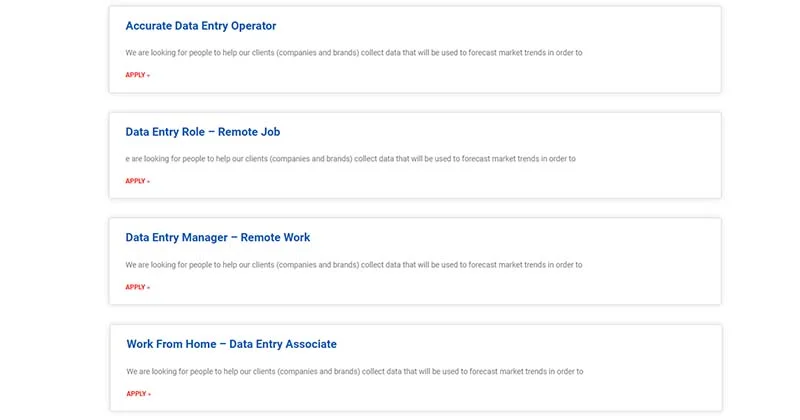 This is the most confusing part of this tech company. Additionally, there is only email: support@workoo.tech to contact the company; no address, no phone number or any other authentic information.
Well, it is advised to do a thorough research before entering into the job process.
Also Read: